The Albion Inn is again pleased to welcome visiting performers to our fair town. Please join us here at the Albion and share our breakfast table with our interesting guests. Give us a call today. There are still good rooms available!
Eclectic Music and More
R. Carlos Nakai
Native American Flute
with Will Clipman, percussion

Silent Auction to benefit Red Earth Descendants
Friday, March 28, 2014 • 8pm
Tickets: $25/advance, $28/door, $10/teens 12-17,
children under 12 are free with paying adult.
Unitarian Fellowship, 4th and C Streets, Ashland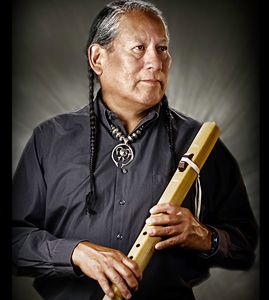 R. Carlos Nakai
Of Navajo-Ute heritage, R. Carlos Nakai is the world's premier performer of the Native American flute. Originally trained in classical trumpet and music theory, Nakai was given a traditional cedar wood flute as a gift and challenged to see what he could do with it.
Since 1983, he has released over 35 albums on the Canyon label. In addition to his solo appearances throughout the United States, Europe, and Japan, Nakai has worked with guitarist William Eaton, flutist Paul Horn, composers James DeMars and Phillip Glass and various symphony orchestras.
While well-grounded in the traditional uses of the flute, Nakai has explored new musical settings including new age, world-beat jazz and classical. His cross-cultural collaborations have included an album with the Wind Travelin' Band, a Japanese folk ensemble and Tibetan flutist and singer Nawang Khechog on several productions including "In A Distant Place." Nakai has earned two gold records for "Canyon Trilogy" and "Earth Spirit" and has received nine Grammy® nominations. Nakai's career has been shaped by a desire to communicate a sense of Native American culture and society that transcends the common stereotypes presented in mass media.
During a career that has spanned nearly three decades, Nakai has recorded more than 35 albums, earned two gold records and toured the world many times. He is credited by music industry observers as being a major force in popularizing Native American music among a wider audience. In 2005, Nakai was inducted into the Arizona Music & Entertainment Hall of Fame and in 2009 was featured as an Arizona artist in the Musical Instrument Museum in Phoenix, AZ. Nakai, however, is more than just a successful musician. In fact, he considers himself an educator first, and an advocate of preserving and sharing cultural traditions by collaborating through music.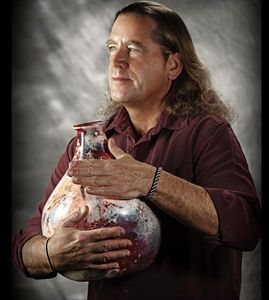 Will Clipman
Will Clipman began playing his father's drums and his mother's piano at the age of three. He played his first professional gig at fourteen, and has since then has mastered a pan-global palette of over one hundred percussion instruments in addition to the traditional drumset. Will is a six-time GRAMMY® Nominee, a three-time Native American Music Award Winner, a Canadian Aboriginal Music Award Winner, a New Age Reporter Music Award Winner, and a two-time TAMMIE Award Winner; and has been inducted into the Tucson Musicians Museum for his contributions to the musical community in his hometown. Will has recorded over sixty albums, including over thirty for Canyon Records, where he is regarded as the house percussionist. In addition to his solo work, Will performs with R. Carlos Nakai, William Eaton, Solvei & ZumaSOL, Amber Norgaard, Gabriel Ayala and Coyote Jump among many other internationally-acclaimed artists. Will's solo CD Pathfinder earned a GRAMMY® Nomination for Best New Age Album. His Planet of Percussion® performance and workshop provides a hands-on tour of world music rhythm and polyrhythm.